EGR Water Treatment
To reduce ship exhaust emissions, air emission regulations are driving the development of primary engine technologies and secondary exhaust emissions abatement systems. As a result, internal combustion engine manufacturers employ a variety of techniques and design characteristics to reduce NOX emissions. The reduction of NOX emissions at the source and the treatment of exhaust gas after combustion are the most common technologies utilized to meet the IMO Tier III standard. Exhaust gas recirculation (EGR) is a mechanism that redirects a portion of the exhaust gases (roughly 30–40%) to the engine's intake side and then back into the cylinders. The recirculated exhaust gases reduce the amount of oxygen (O2) in the incoming air while increasing the amount of carbon dioxide (CO2). The peak combustion temperature drops dramatically as a result of the lower O2 content and higher specific heat from CO2 in the combustion air, resulting in lower NOX formation. To prevent corrosion of the combustion chamber components and the EGR system components, the recirculated exhaust gases must be cleaned and cooled before being re-introduced into the engine's air inlet system. The degree of cleaning is determined by the sulphur content of the fuel used. The recirculated exhaust gas is cleaned and cooled using fresh water. To keep its ability to clean, cool, and neutralize exhaust gases, the water must be treated. The combustion process also produces condensate which must be drained from the EGR unit and treated.
Combined EGR and Bilge Water Treatment System
part no.
Combined EGR and Bilge Water Treatment System
More stringent emissions regulations usually add more equipment onboard. However, the amount of equipment that can be added to the engine room and the amount of time that the crew has remaining for new operations are both limited.
Combining treatment units for different waste streams is one way to overcome this challenge, and even though a combined system for bilge, black and grey water is technically possible, there are too few common denominators for effluent water parameters. For separate waste streams with identical effluent discharge requirements, it is a whole new ballgame.
The oil content (below 15 ppm) is the only regulated parameter for discharge of either MEPC.307(73) regulated EGR bleed off water mor MEPC.107(49) regulated bilge water. It therefore made perfect sense to develop a treatment system that can treat both.
The Marinfloc, class approved, combined EGR bleed off water and bilge water treatment system is the first solution ever to treat waste streams belonging to various Marpol annexes. By integrating the WhiteBox® and segregation valves, the requirement not to mix Marpol  ANNEX I and VI waste and recording of discharge data in the oil record book and the EGR record book, are fulfilled.
A combined treatment system for EGR bleed-off water and bilge water is a convenient installation to minimize the cost of both equipment and installation related to the discharge of bilge water and EGR bleed-off water. Bilge water and EGR bleed-off water belong to different Marpol annexes and must hence be kept segregated, and there must be separate holding tanks and sludge tanks. The system segregation valves prohibit mixing of the two, including the generated sludge from the treatment process. The class approved automated switch-over sequence with interlocks is controlled by the system automation. From the control panel, the operator can easily select which waste stream to treat. The WhiteBox® will control and record the system vital discharge parameters and segregate the amount of discharged bilge water and EGR bleed-off water for separate record keeping as required.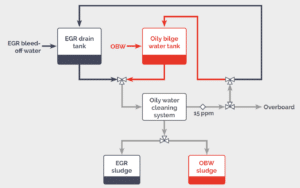 Process description: The CD-unit can take suction from either the EGR bleed-off tank or the Bilge water holding tank. Three three-way valves connected to a selector switch secure that the waste streams are never mixed. The EGR bleed-off water is collected in a bleed-off water drain tank of a cascade type. The tank should be equipped with heating coils to heat the bleed-off water to 40-55 °C, solid sensors that will detect solidification of soot. The system must have segregated sludge tanks as per the Marpol requirements. The wastewater is treated overboard through a WhiteBox® by the CD unit and all vital system data such as tank levels, valve positions, oil content, discharged volume etc. is recorded and logged in the WhiteBox® recorder.
Contact us for more information.
Key Features of Combined EGR and Bilge Water Treatment System
Lower CAPEX as there is no need to procure a separate OWS.
Lower OPEX, less documentation, classification cost and spare parts.
Space-efficient with a smaller footprint.
One high-end separator for two waste streams.
Lower cost for commissioning.
Advantages of Marinfloc OWS system
Flocculation technology. No cartridge filters nor centrifuges required.
Adjustable to the ship specific EGR bleed-off water composition
Low energy consumption for low carbon footprints
Low operational cost
Stainless steel material
Made in Sweden
Applied regulations
MEPC.307(73) regulated EGR bleed off water
MEPC.107(49) regulated bilge water
Contact us for more information. info@venteville.com
OCM Exchange Service OMD-24 & OMD-2005
part no.
Exchange Service OMD-24 & OMD-2005
OMD Recondition & Exchange
To take care of your continuity we offer 2 options to ensure a cost effective way to keep your OMD unit compliant with the I.M.O. Resolution MEPC.107(49).
OPTION 1 –  OMD Cell Calibration Only
The OMD cell will be send by client to Marinfloc
Your OMD cell will be calibrated by Marinfloc authorized engineer
Marinfloc will return your calibrated OMD cell within 14 days of receipt
OPTION 2 – OMD Exchange System
A reconditioned calibrated OMD cell will send from stock and a credit will be issued upon receiving your OMD cell
Your old OMD cell shall be returned to us within 60 days from issued invoice.
How to order
Download the pdf file to open the order form, select your options and send the form to info@venteville.com